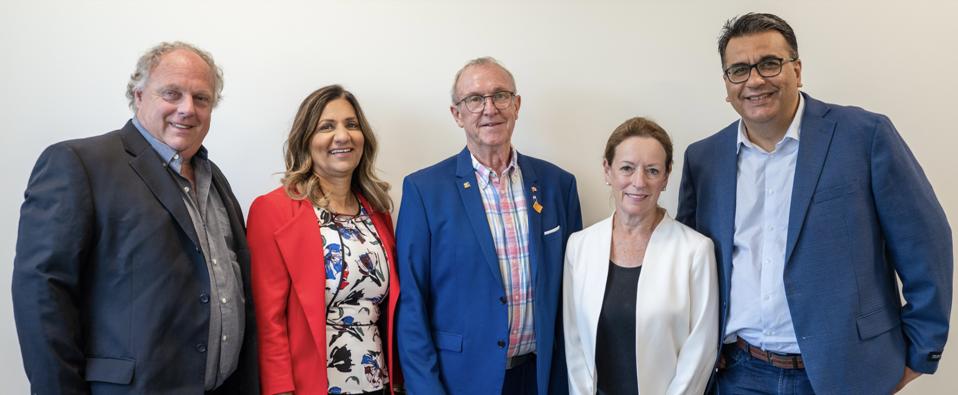 Mike Bose and Sargy Chima (left) and Kulwinder Saini (right) have joined Gordie Hogg and Linda Annis (centre) to round out the Surrey First election team.
Like Surrey voters, we believe city council can do better when it works together: Gordie Hogg, Surrey First mayoral candidate
Surrey, B.C. (August 2, 2022): Surrey First mayoral candidate Gordie Hogg today announced that Mike Bose, Sargy Chima and Kulwinder Saini have joined the campaign team as council candidates. The three newest additions complete the Surrey First team for the October 15 municipal election.
"Like more and more Surrey voters who want a real change from the my-way-or-the-highway approach of Doug McCallum, our Surrey First team is about giving voters their voice back at city hall," said Hogg, a former Surrey MLA and Surrey MP. "Mike, Sargy and Kulwinder bring a lot of practical experience to our team. They know how to work together to get things done and that's the approach we want to bring to a new city council in October. People are telling us they want a real change and a new approach where they and their ideas are included, something that's been missing at city hall for four years now."
Hogg said Bose, a fourth generation Surrey farmer, was a member of the first student council at Kwantlen College and is president of the Surrey Farmers Institute.
"Mike's Surrey roots run deep, which means he has a real appreciation for the city's history and how to use that background to help build a better Surrey for the next generation," added Hogg. "He is also a former director of the Surrey Hospital Foundation and member of the Surrey Cares Foundation, and his extensive business experience includes being chair of the Mutual Fire Insurance Company of British Columbia. At the same time, Mike was a Cloverdale hockey coach for 30 years and his family's fall corn maze continues to be an annual attraction for local families."
Bose said he's part of a growing number of Surrey voters who have been frustrated that the city has been going in the wrong direction since the last municipal election in 2018.
"My family has been here a really long time and we've seen Surrey change over the years, usually it's for the better, but the past four years have been a real disappointment," said Bose. "Our current mayor has divided council and ignored residents. The past four years have been tough on Surrey taxpayers and Surrey's reputation, but we can change that on October 15, because together, we can do better."
Sargy Chima, a proud hockey mom and a wife, has lived in Surrey for nearly 40 years. Sargy has lived in Guildford and Cloverdale and currently she and her husband, Makhan, live in Whalley.
Her 20-year career with Service Canada has given her a chance to see our country through the eyes of Canadians from coast to coast to coast, and as a former member of the Surrey Parks and Recreation Committee, she knows our local neighbourhoods and just how important the city's parks, pools and rinks are to families. Sargy has also served as a tournament director and fundraising manager over several years. Those grassroots connections show that she knows how to listen and get things done.
She is national vice president of the Canada Employment and Immigration Union, representing more than 2000 members in BC and Yukon.
"Surrey families are my priority. I want to ensure families have easy access to a broad range of city amenities as neighbourhoods continue to grow in the years ahead. My family has lived in Surrey for nearly 40 years, and I know just how important it is to have plenty of parks, pools, rinks and community centres, something that has always been a Surrey First priority," noted Chima.
"I certainly support development and new housing options, and when you're adding more than 300 new families to Surrey every month, we have to make sure we are keeping up with the community amenities people want and need. I will also work to ensure a safe Surrey and a city that responds to transportation needs of its growing citizens. I am looking forward to being part of a new council that's committed to working together and having as much input as possible through hearing as many voices as possible. Unfortunately, for the past four years we've really only heard one voice at city hall, which means that nearly 600,000 people have been ignored and sidelined."
A graduate of the University of Victoria and Carleton University, Kulwinder Saini, spent 25 years with the governments of Canada, Ontario, Alberta, and Nunavut, primarily as a policy analyst in such areas as healthcare, health promotion, education, and community and government services. Seven years ago, Saini joined the Saini Group of Companies, a family business involved in property management, and real estate development in Saskatchewan. He also volunteers with the Surrey Food Bank.
"Kulwinder lives in Surrey City Centre and brings a strong background in providing a broad range of different services to residents and taxpayers. "Additionally," added Hogg, "his research and analytical skills that served him well in different governments across the country, are a skill set we will put to good use in a new city council. Kulwinder knows how to ask the right questions and set practical ways of measuring success for residents and taxpayers when it comes to city programs. His strong team skills are also what we'll be looking for in a new council, one that works together rather divided, as it is now."
"Surrey's annual budget is over $1.2 billion and growing, and Surrey taxpayers have every right to expect city council to be transparent when it comes to finances and measures of success," noted Saini. "I want to be a part of a city council that is committed to being competent, transparent, and creative when it comes to providing programs and creating a city that really looks to the future and holds its mayor and councillors accountable. It starts by listening to our residents, something that seems to have been forgotten at city hall these days, but we can change that with the right council."
Surrey First Councillor Linda Annis said the 2022 Surrey First team is committed to listening to Surrey residents and taxpayers, and the sort of transparency that is lacking at city hall today.
"Over the past four years, I've watched council become more and more divided, and when that happens, we get less and less done, which is no way to run city hall," said Annis. "On October 15, our voters have a choice: more of the same at city hall, or a city council that works together, respects taxpayers, is honest with residents, and has a community vision, rather than just one person's view of the world. We're quickly becoming the largest city in the province, and all of us should expect more from our mayor and council. We can make sure of that on election day."
The Surrey First team is made up of mayoral candidate Gordie Hogg, current councillor Linda Annis, and additional council candidates, Mike Bose, Bilal Cheema, Sargy Chima, Ajit Mehat, Paul Orazietti, Kulwinder Saini and Mary-Em Waddington.