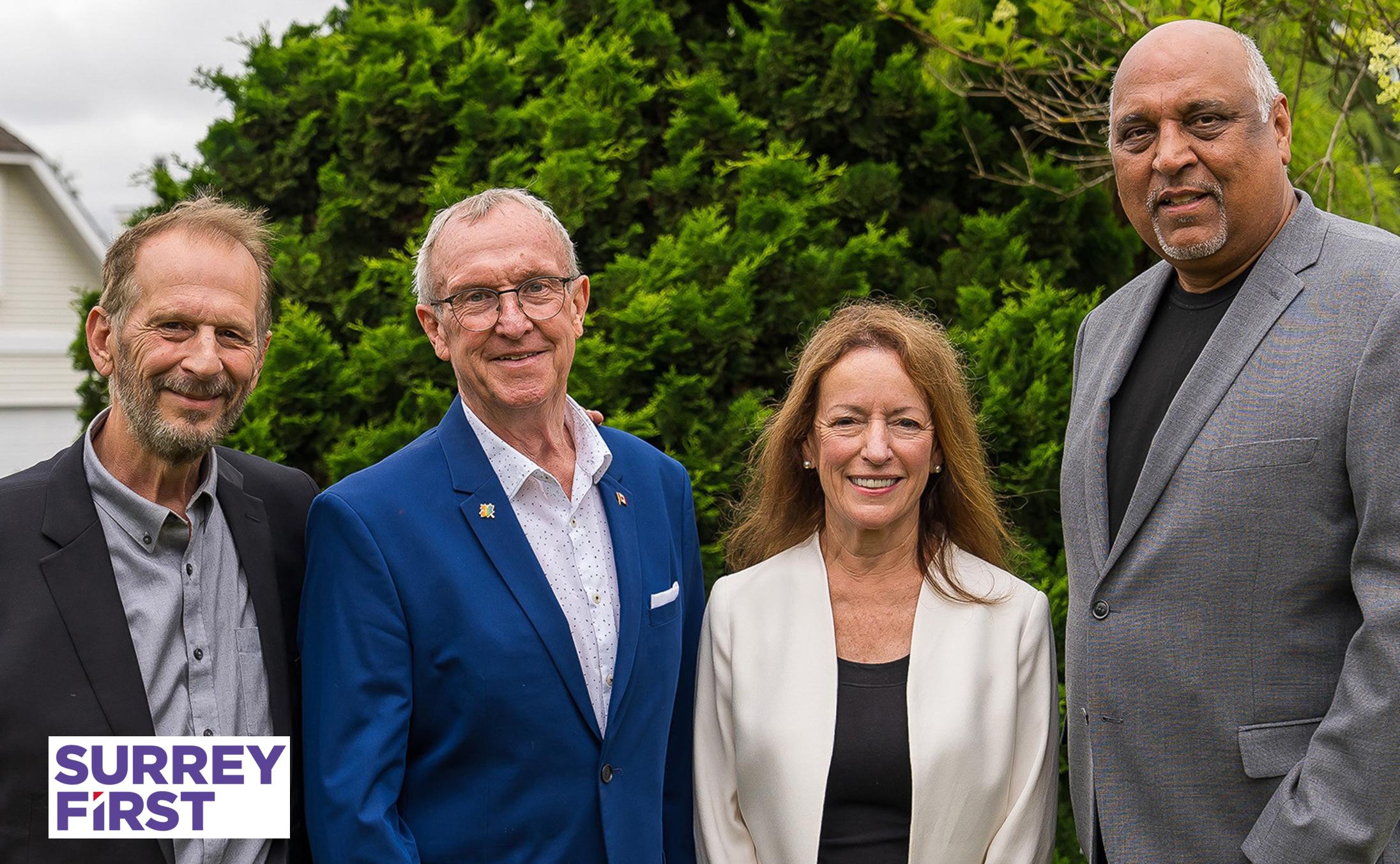 PAUL ORAZIETTI AND AJIT MEHAT JOIN SURREY FIRST TEAM AS COUNCIL CANDIDATES
We're building a team that's committed to giving Surrey residents their voice back, something that's been missing for the past four years: Gordie Hogg, Surrey First Mayoral Candidate
Surrey, BC (July 26, 2022) - Surrey First mayoral candidate Gordie Hogg has announced that Paul Orazietti of Fraser Heights and Ajit Mehat of South Surrey have joined the Surrey First team as council candidates. Orazietti is executive director of the Cloverdale Business Improvement Association (BIA) and Mehat is a former senior executive with the governments of Canada and Ontario.
A business graduate of Simon Fraser University, Orazietti spent 15 years in the advertising and marketing industries, before heading up BIAs in Downtown Chilliwack and Cloverdale over the past 26 years.
"Paul is a founding director of Tourism Surrey, and the Surrey Heritage Society, which operates the BC Vintage Truck Museum," noted Hogg. "In addition, Paul and Surrey First Councillor Linda Annis are also founding directors of the upcoming Surrey Arts Festival, scheduled for 2023. Paul knows the value of strong neighbourhood economies, and how they should come together to build Surrey's local and regional economy. At the same time, he recognizes the importance of knitting together Surrey's economic growth, business development and cultural growth in ways that improve the livability of Surrey and each of its neighbourhoods."
Orazietti said he is "passionate about improving the branding of this beautiful city" and wants to see a "mutually beneficial" relationship between Surrey and Metro Vancouver.
"I've spent my entire working life promoting strong and creative economies that help generate good jobs, and improve the livability of neighbourhoods, and our work at the Cloverdale BIA is a perfect example of what we can do when we work together," said Orazietti. "Over the past few years, I have had the chance to work with Surrey First Councillor Linda Annis and she impressed me every time we connected. At the same time, like so many people in Surrey, I've known Gordie Hogg for years and his honesty, integrity and ability to listen, will make him the sort of mayor our city needs, particularly as a new council repairs the damage that has been done over the past four years while Surrey residents were completely ignored and sidelined."
A graduate of Lord Tweedsmuir Secondary, where he was chosen as the graduating class Valedictorian, and the University of British Columbia, Ajit Mehat spent 34 years in the public service of British Columbia, Ontario and Canada. For 17 years he worked as a senior executive at Canada's Department of Justice, Human Resources and Skills Development Canada and the Canadian Human Rights Commission. His national accomplishments include negotiating new legal aid agreements with the provinces and territories and developing a first ever Access to Justice funding program for addressing the needs of the territories.
With the Ontario government, Mehat was appointed to start the Ontario Workplace Health and Safety Agency, bringing employers and organized labour together to educate and certify workplace committees across the province. In BC, Mehat served as a Human Rights Officer with the Ministry of Labour for 5 years and was a Director General of Policy and Regulations Development with WorkSafeBC. Mehat has also served as Chair of the Merchant Seamen Compensation Board, and locally he has been on the boards of Coast Mental Health, Board Voice, and the BC Association of Community Response Networks, which brings community agencies, businesses, government, and concerned citizens together to help stop adult abuse and neglect.
"We're building a strong, competent and caring team and Ajit's background and experience here in BC and other parts of the country give him a broad and unique perspective that will help make a new city council stronger and more creative," explained Hogg. "All of the people joining our team are quite different, but they all have one thing in common: they believe we can do better together, and they are committed to putting Surrey first, something that has been missing at city hall since the last election."
Mehat believes "that all voices matter" and that listening to diverse voices and viewpoints leads to more transparency, community engagement, and better outcomes for citizens.
"I believe in the Surrey First commitment to transparency and accountability, and that includes welcoming our fellow citizens to city hall, rather than trying to distance them from the people they elect," said Mehat. "If you believe in democracy and community engagement, the past four years in Surrey have been really disappointing. We get to change that on October 15 when we elect a new mayor and council. Like so many others in Surrey, I've had enough and want to change things for the better."
Surrey First Councillor Linda Annis said Orazietti and Mehat "will be welcome additions" to a new city council.
"We will get a lot done for Surrey if council can work together, and we include our fellow citizens in the big decisions we need to make," added Annis. "I'm absolutely convinced that Paul and Ajit can make a terrific contribution at the council table, and they also know how to get things done, something we're going to need every day at city hall if we're going to get our city back on track for the people who live here."
Orazietti and Mehat join Linda Annis, Mary-Em Waddington and Bilal Cheema, who are also running for council. The remaining three Surrey First Council candidates will be named in the next two weeks.